Thank you everyone
Dear all,
Another successful DORS/CLUC conference is behind us. We would like to thank our partners: Croatian Chamber of Economy who provided us with venue for the conference, Styria Croatia who helped us to promote the conference.
Thank you to our sponsors: Business Institute, Red Hat, Infobip, Apis IT, Site5, HP, CARNet, Ultima, Oracle, Google, Kolab Systems, Pointer, mySociety. Without you we wouldn't be able to do half of the stuff we have imagined and planned.
Thank you to our media partners and media sponsors: Netokracija, Mreža, Racunalo.com, Muktware, VIDI, LinuxZaSve, Tportal.hr, ICT Business, www.parentium.com for promoting DORS/CLUC 2014 conference.
Thank you to our dear volunteers: Martina Draženović, Snežana Mamula, Tin Benjamin Matuka, Andrei Zvonimir Crnković. Mladen Uzelac, Filip Fabijanić, Hrvoje Varžić, Mario Goljak, Vesna Rus, Kata Banožić who helped us to decorate venue place and who helped us with the goal that everybody is happy at the conference.
Thank you to our keynote speakers and speakers because they were icing on a cake and without them we wouldn't have the conference: Georg Greve, Elizabeth Krumbach Joseph, Dave Whiteland, Harald Welte, Mikloš Vajna, Marian Marinov, Luka Blašković, Vedran Rodić, Jelena Georgijević, Mario Borna Mjertan, Dobrica Pavlinušić, Ivan Voras, Luka Blašković, Darko Topolko, Kristijan Matas, Marin Bjeliš, Hrvoje Bogner, Ivan Longin, Igor Vuk, Vedran Živičnjak, Vanja Radovanović, Petar Koraca, Goran Cvijanović, Vedran Miletić, Alen Vodopijevec, Tomislav Bišćan, Milutin Zrnić, Denis Ristić, Dejan Gambin, Stjepan Zlodi, Ana Mandić, Marta Milaković, Lucija Pilić, Jasna Benčić.
Thank you to our guests and attendees who visited and supported the conference. After all this conference was for you.
Thank you to Cassandra catering staff and Pivnica Medvedgrad staff for taking care that nobody is thirsty nor hungry during the conference.
Thank you to Hotel Panorama for giving nice hospitality to our keynote speakers.
Thank you to our online followers because they have helped us in a marketing way. Every plus, like and tweet helped that more people hear about us.
Special thanks to Melita Mihaljević and Igor Požgaj for helping us to promote DORS/CLUC 2014 on Facebook where they have enabled us growth of an audience with constant  fans inflow. Their unselfish help has enabled us that people who wouldn't hear about us actually hear about us.
Thank you to our photographers and camera crew for saving the conference moments in many snapshots and videos and thus enabling us nice memories.
Thank you everyone who has helped us in a way so we finish another DORS/CLUC successfully.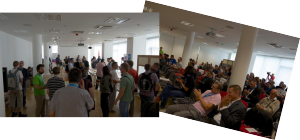 DORS/CLUC 2014 organizers: Ivan Guštin, Svebor Prstačić, Lucijana Dujić Rastić, Jasna Benčić and Krešimir Kroflin